OCCUPIED OR DISPUTED AREAS?
"We shall not enter Palestine with its soil covered in sand. We shall enter it with its soil saturated in blood." - Egyptian President Gamal Abdel Nasser, Mar 8, 1965
"Our forces are now entirely ready.... the time has come to enter a battle of annihilation." - Gen. Hafez al-Assad, Syria's Minister of Defense, and later President, on May 20, 1967
"It is either us or the Israelis. There is no middle road. The Jews of Palestine will have to leave. We will facilitate their departure to their former homes. Any of the old Palestine Jewish population who survive may stay, but it is my impression that none of them will survive....We shall destroy Israel and its inhabitants and as for the survivors - if there are any - the boats are ready to deport them." - Ahmed Shukairy, founder and then-chairman of the Palestine Liberation Organization, Jun 1, 1967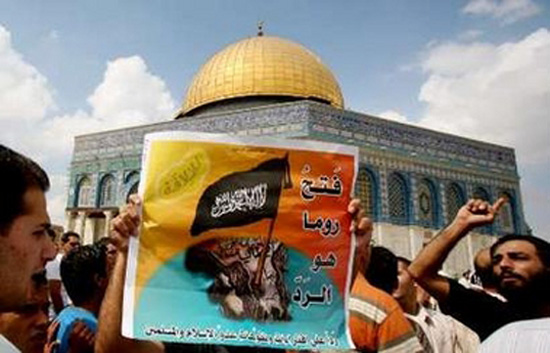 Poster reading 'Conquering Rome is the answer'

and displaying an Islamic flag hoisted over Italy, during a "Day of Rage" of Palestinian Muslims against Pope Benedict XVI on Sep 22, 2006 (Reuters)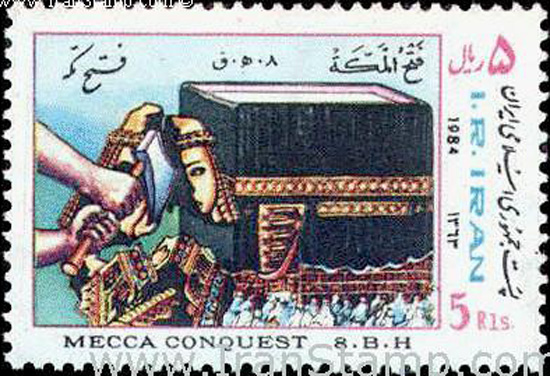 Iranian stamp

celebrating the violent Muslim conquest of Mecca | Arabs and Iranians have 22 states = 10% of world's land area; not thanks to their skills or their great virtues, but because they conquered


, murdered or forced out those conquered. The Muslim wars of imperialist conquest have been launched for almost 1,500 years against hundreds of nations, over millions of square miles (significantly larger than the British Empire at its peak). The lust for Muslim imperialist conquest stretched from southern France to the Philippines, from Austria to Nigeria, and from central Asia to New Guinea.
Presently, Arabs and Muslims are involved in 22 active conflicts across the globe. The bloodletting against nearly every non-Muslim civilization from Hindu, Buddhist, Christian, Jewish, Chinese to African animist, demands attention. Looking at a map of Israel in relationship to the Arab world and Iran tells us that Arabs and Iranians don't need land; they need tolerance. There is no shortage of land. There is a shortage of freedom.


On May 15, 1948 the Arab League declared the invasion of the former Palestine Mandate of the League of Nations, sixteen years before the West Bank and Gaza Strip came under Israeli control
Egypt invaded Israel in 1948 with the declared intent of destroying her and eventually occupied the Bethlehem area near Jerusalem. Egyptian stamp, 1948