GENOCIDE - SLAVERY - PIRACY AT SEA
20 years of genocide in S-Sudan: 2 million deaths, 4 million displaced
State-sponsored genocide in Darfur: 400,000 deaths, 2,5 million displaced
Saudi Religious Leader Calls for Slavery's Legalization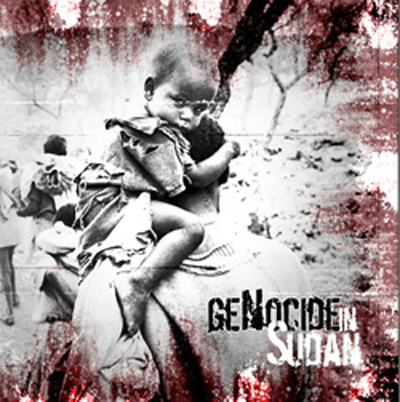 FORCED MARRIAGE - CHILD MARRIAGE
LEGALIZED PEDOPHILIA AND CHILD RAPE
KILLING FOR 'HONOR': LEGALIZED MURDER
FEMALE GENITAL MUTILATION

(FGM)


Genital mutilation of girl

, FGM is carried out with knives, scissors, scalpels, pieces of glass or razor blades

. Anaesthetic and antiseptics are not generally used. Mortality is high.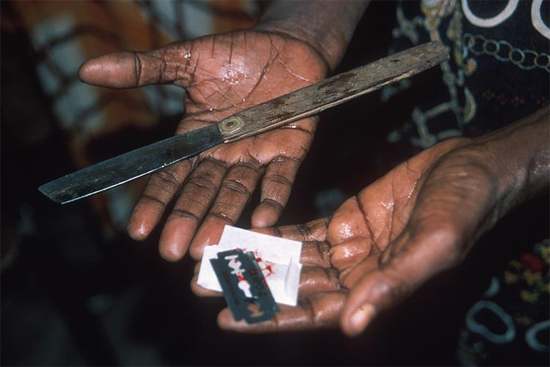 EXTORTIONATE HOSTAGE-TAKING
PUBLIC BEHEADING - STONING TO DEATH
FLOGGING - CRUCIFIXION
AMPUTATION OF HANDS AND FEET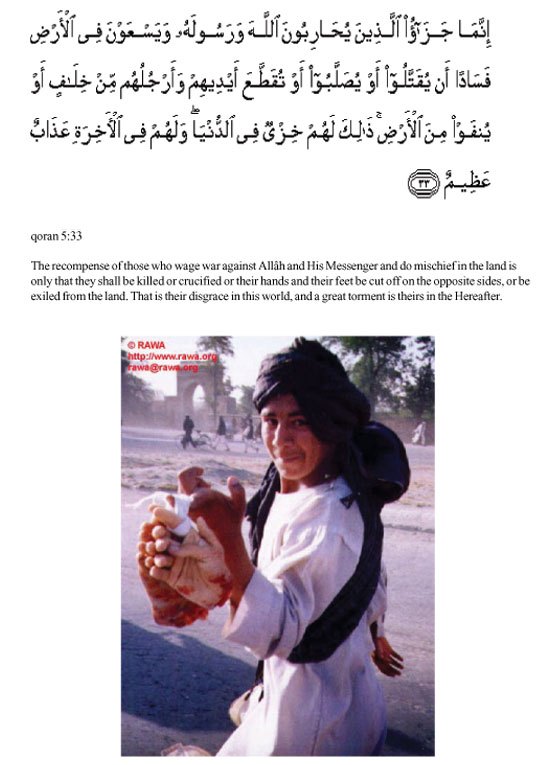 Islamic Sharia justice chopped off

hand and foot of "convict", 1998 (RAWA, Feb 7, 2006)

Woman being prepared for

stoning to death in Iran (FP, Jan 27, 2005)


Iranian public stoning to death (15:31 min)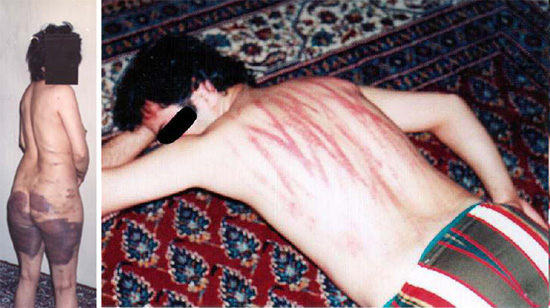 Flogged Iranian

woman and gay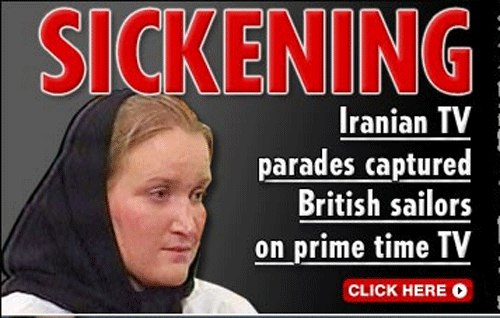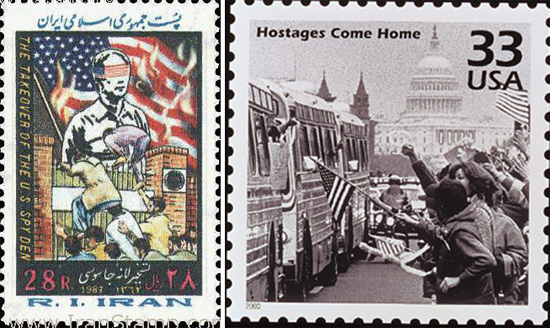 Iranian stamp celebrating the hostage-taking of 63 diplomats in Teheran,

US stamp

Saddam's Chemical Weapons Campaign: Halabja, March 16, 1988 (U.S. State Department, Mar 14, 2003): "Saddam Hussein is the first world leader in modern times to have brutally used chemical weapons against his own people."

Genocide in Iraq. The Anfal Campaign Against the Kurds (Human Rights Watch): "By our estimate, in Anfal at least 50,000 and possibly as many as 100,000 persons, many of them women and children, were killed out of hand between February and September 1988. Their deaths did not come in the heat of battle -- "collateral damage" in the military euphemism. Nor were they acts of aberration by individual commanders whose excesses passed unnoticed, or unpunished, by their superiors. Rather, these Kurds were systematically put to death in large numbers on the orders of the central government in Baghdad -- days, sometimes weeks, after being rounded-up in villages marked for destruction or else while fleeing from army assaults in "prohibited areas".

WMD, R.I.P. Everyone now agrees it was right to attack Iraq pre-emptively (Gordon Crovitz, Wall Street Journal, June 1, 2004): "A familiar news story: A hard-line government uses its powerful military to launch a unilateral pre-emptive strike. The United Nations and Europe are horrified, along with most of the American media. They condemn the strike and brush off claims that it was justified as an act of self-defense against an unpredictable tyrant. So was it a terrible mistake, a lamentable error of judgment? Not at all. History now smiles on Israel's elimination of Saddam's nearly completed weapon of mass destruction more than 20 years ago."

Lesson for the 'Don't-Touch-Saddam' lobby (Paris based Iranian Amir Taheri, JP, Jun 13, 2003)

CIA World Factbook (Sudan): "Since 1983, the war and war- and famine-related effects have led to more than 2 million deaths and over 4 million people displaced. The war pits the Arab/Muslim majority in Khartoum against the non-Muslim African rebels in the south."

Sudan Peace Act (U.S. Congress, H.R.5531, Oct 7, 2002): "The Government of Sudan has intensified its prosecution of the war against areas outside of its control, which has already cost more than 2,000,000 lives and has displaced more than 4,000,000 people. ... The Government of Sudan utilizes and organizes militias, Popular Defense Forces, and other irregular units for raiding and enslaving parties in areas outside of the control of the Government of Sudan in an effort to disrupt severely the ability of the populations in those areas to sustain themselves. ... The acts of the Government of Sudan, including the acts described in this section, constitute genocide as defined by the Convention on the Prevention and Punishment of the Crime of Genocide (78 U.N.T.S. 277). ... The Congress hereby--
(1) condemns--
(A) violations of human rights on all sides of the conflict in Sudan;
(B) the Government of Sudan's overall human rights record, with regard to both the prosecution of the war and the denial of basic human and political rights to all Sudanese;
(C) the ongoing slave trade in Sudan and the role of the Government of Sudan in abetting and tolerating the practice;
(D) the Government of Sudan's use and organization of `murahalliin' or `mujahadeen', Popular Defense Forces, and regular Sudanese Army units into organized and coordinated raiding and slaving parties in Bahr al Ghazal, the Nuba Mountains, and the Upper Nile and the Blue Nile regions; and
(E) aerial bombardment of civilian targets that is sponsored by the Government of Sudan; and
(2) recognizes that, along with selective bans on air transport relief flights by the Government of Sudan, the use of raiding and slaving parties is a tool for creating food shortages and is used as a systematic means to destroy the societies, culture, and economies of the Dinka, Nuer, and Nuba peoples in a policy of low-intensity ethnic cleansing." The [Sudan Peace] Act passed the U.S. House of Representatives on October 7, 2002 by a vote of 359-8. The Senate passed the same language by unanimous consent on October 9, 2002 (U.S. Department of State, Oct 21, 2002).

Stopping Iran's atomic quest (National Post, Sep 29, 2003): "In a prominent national sermon in December, 2001, former Iranian president Hashemi Rafsanjani declared that the day 'the world of Islam comes to possess [nuclear] weapons' will be 'the day ... global arrogance will come to a dead end.' He added that a bomb used against Israel 'would leave nothing on the ground' and would rid the world of much 'extraneous matter,' by which he appeared to mean millions of Jews."

Idi Amin's obscenely easy exile (Ethan Bronner, International Herald Tribune, Aug 20, 2003): "Was it possible that a man who, in the 1970's, had ordered the deaths of 300,000 of his countrymen, raped and robbed his nation into endless misery and admitted to having eaten human flesh was whiling away his time as a guest of the Saudi government? It was. There, in a spacious villa behind a white gate, Amin made his home ..."

PROCLAMATION OF THE SAHARAWI ARAB DEMOCRATIC REPUBLIC (February 27, 1976): "We want to draw the attention of the United Nations Organisation, the Organisation of African Unity and the Arab League to their historical responsibility towards a peaceful people, victims of an attempt at extermination, a veritable genocide."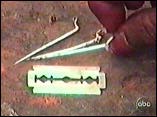 Pictures of Female Genital Mutilation (FGM), 2002
(These pictures are not suitable for children. They are extremely disturbing!!!)

"Instruments" used for Female Genital Mutilation (FGM), 2003

Egyptian girl undergoing Female Genital

Mutilation (FGM)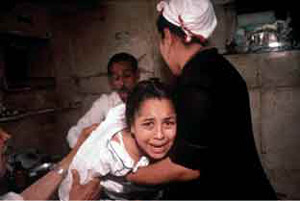 Excerpts from Hosken Report, Somalia Genital and Sexual Mutilation of Females, Fourth Revised Edition, 1993 (Women's International Network News) (PDF 66 KB): "The child, completely naked, is made to sit on a low stool. Several women take hold of her and open her legs wide. After separating her outer and inner lips, the operator, usually a woman experienced in this procedure, sits down facing the child. With her kitchen knife the operator first pierces and slices open the hood of the clitoris. Then she begins to cut it out. While another woman wipes off the blood with a rag, the operator digs with her sharp fingernail a hole the length of the clitoris to detach and pull out the organ. The little girl, held down by the women helpers, screams in extreme pain; but no one pays the slightest attention.The operator finishes this job by entirely pulling out the clitoris, cutting it to the bone with her knife. Her helpers again wipe off the spurting blood with a rag. The operator then removes the remaining flesh, digging with her finger to remove any remnant of the clitoris among the flowing blood. The neighbor women are then invited to plunge their fingers into the bloody hole to verify that every piece of the clitoris is removed."

Health consequences of FGM (Fact sheet no. 241 Female Genital Mutilation, World Health Organization, WHO official website, June 2004): "Immediate complications include severe pain, shock, haemorrhage, urine retention, ulceration of the genital region and injury to adjacent tissue. Haemorrhage and infection can cause death. More recently, concern has arisen about possible transmission of the human immunodeficiency virus (HIV) due to the use of one instrument in multiple operations, but this has not been the subject of detailed research. Long-term consequences include cysts and abscesses, keloid scar formation, damage to the urethra resulting in urinary incontinence, dyspareunia (painful sexual intercourse) and sexual dysfunction and difficulties with childbirth. Psychosexual and psychological health: Genital mutilation may leave a lasting mark on the life and mind of the woman who has undergone it. In the longer term, women may suffer feelings of incompleteness, anxiety and depression."



Female Genital Mutilation (World Health Organization, 1999, p. 149-154): (PDF, 672 KB)
97% of Egyptian women[= 29 million] have undergone Female Genital Mutilation
98% of Djibouti women [= 250,000] have undergone Female Genital Mutilation
98% of Somali women [= 5 million] have undergone Female Genital Mutilation
25% of Mauritanian women [= 750,000] have undergone Female Genital Mutilation

Egypt outlaws female circumcision (Aljazeera, Jun 28, 2007): "Egypt has banned all female circumcision, the widely-practised removal of the clitoris ... About 97 per cent of Egypt's women have undergone circumcision."

Report on Female Genital Mutilation, Egypt (U.S. Department of State, Jun 1, 2001):
"... practice is nearly universal among women of reproductive age in Egypt ... findings show that 97 percent of women surveyed have undergone one of these procedures ..."

Report on Female Genital Mutilation, Sudan (U.S. Department of State, Jun 1, 2001): About 90% of Sudanese women [= 14.4 million] have undergone Female Genital Mutilation

Report on Female Genital Mutilation, Yemen (U.S. Department of State, Jun 1, 2001):
"... 96 percent of women in Hodeidah, Hadraumaut and Al-Maharah had undergone this procedure, while Aden and Sana'a city were 82 percent and 45.5 percent, respectively."



The World Medical Association Statement on Female Genital Mutilation, Oct 1993: "The World Medical Association condemns the practice of genital mutilation including circumcision where women and girls are concerned and condemns the participation of physicians in the execution of such practices."

IAC - Inter-African Committee on Traditional Practices (accessed Aug 12, 2007): "Female genital mutilation comprises all procedures involving partial or total removal of the external female genitalia or other injury to the female genital organs whether for cultural or other non-therapeutic reasons." ... "IAC enjoys Consultative Status with the African Union (AU), the UN Economic and Social Council (ECOSOC) and an Official Status with the WHO. It collaborates with several Non-governmental Organizations and some UN Agencies among which are Agence Intergouvernmentale de la Francophonie, UNFPA and UNICEF."

UN High Commissioner for Human Rights (accessed Aug 12, 2007): "Female genital mutilation (FGM), or female circumcision as it is sometimes erroneously referred to, involves surgical removal of parts or all of the most sensitive female genital organs. ... It is believed that, by mutilating the female's genital organs, her sexuality will be controlled; but above all it is to ensure a woman's virginity before marriage and chastity thereafter. In fact, FGM imposes on women and the girl child a catalogue of health complications and untold psychological problems. The practice of FGM violates, among other international human rights laws, the right of the child to the 'enjoyment of the highest attainable standard of health', as laid down in article 24 (paras. 1 and 3) of the Convention on the Rights of the Child."



Policy Statement | Female Genital Mutilation (American Academy of Pediatrics, PEDIATRICS Vol. 102 No. 1 Jul 1998, pp. 153-156): "... pediatricians and pediatric surgical specialists should be aware that this practice [FGM] has serious, life-threatening health risks for children and women. The AAP opposes all forms of FGM …" [Disturbing graphical descriptions included]



The UN Refugee Agency UNHCR official website, Jul 9, 2004): "In France, the Netherlands, Canada and the United States, it has been officially recognized that genital mutilation represents a form of persecution and that this can be a basis for refugee status. In one case, a woman who feared persecution in her country because of her refusal to inflict genital mutilation on her infant daughter was recognized as a refugee."



Why is FGM any different to the circumcision of boys? (Spinifex Press, Nov 14, 2004): "The circumcision of boy-children, in the form it is known in Australia, involves the removal of the foreskin, or prepuce, from the penis. This act is performed for reasons of religion, in the Jewish faith, or for culturally imposed concepts of hygiene or for aesthetic reasons. 'The degree of cutting in female circumcision is anatomically much more extensive [than in male circumcision]. The male equivalent of clitoridectomy (in which all or part of the clitoris is removed) would be the amputation of most of the penis. The male equivalent of infibulation (which involves not only clitoridectomy, but the removal or closing off of the sensitive tissue around the vagina) would be removal of all the penis, its roots of soft tissue, and part of the scrotal skin.'(Nahid Toubia, Female Genital Mutilation, p.9) Unlike FGM, male circumcision is not performed with the aim of diminishing the sexual desire or drive of the male, nor to ensure chastity or virginity."

Supreme Leader of the Islamic Revolution Ayatollah Khomeini's Religious Teachings on Marriage, Divorce and Relationships (Parvin Darabi, USA-based Dr. Homa Darabi Foundation website, Jun 10, 2006: "A man can marry a girl younger than nine years of age, even if the girl is still a baby being breastfed. A man, however is prohibited from having intercourse with a girl younger than nine, other sexual act such as forplay, rubbing, kissing and sodomy is allowed. A man having intercourse with a girl younger than nine years of age has not comitted a crime, but only an infraction, if the girl is not permanently damaged. If the girl, however, is permanently damaged, the man must provide for her all her life. But this girl will not count as one of the man's four permanent wives. He also is not permitted to marry the girl's sister."

Women and Children as the Spoils of "Holy War" (iAbolish - The Anti-Slavery Portal)


Danford Report (US Department of State)


Danford Report (US Department of State) (PDF, 629 KB)

STATEMENT BY THE PRESIDENT George W. Bush, October 21, 2002: "The [Sudan Peace] Act is designed to help address the evils inflicted on the people of Sudan by their government -- including senseless suffering, use of emergency food relief as a weapon of war, and the practice of slavery …"

Slavery and Slave Redemption in the Sudan (Human Rights Watch, March 2002):
"... government-backed and armed militia of the Baggara tribes raid to capture children and women who are then held in conditions of slavery in western Sudan and elsewhere. They are forced to work for free in homes and in fields, punished when they refuse, and abused physically and sometimes sexually. Raids are directed mostly at the civilian Dinka population of the southern region of Bahr El Ghazal. The government arms and sanctions the practice of slavery ..."

Human Rights Watch (HRW) Papers on Slavery in Sudan, Sudanese Justice incl. Stonings and Amputations



Links to Sudan Slavery Groups

Despite Legal Ban, Slavery Persists in Mauritania. Workers Chained by Caste, Economy In Impoverished West African Nation (Douglas Farah, Washington Post, Oct 21, 2001): "Slavery ... was outlawed only in 1980, making the country one of the last in the world to ban the practice. ... the law outlawing slavery says that slaves can be freed only if their master receives 'compensation'. ... women who are forced to leave their children behind as the property of their former owner."

Saudi religious leader calls for slavery's legalization (Daniel Pipes, Nov 7, 2003): Sheikh Saleh Al-Fawzan [is] the author of a religious textbook (At-Tawhid, "Monotheism") widely used to teach Saudi high school students as well as their counterparts abroad studying in Saudi schools (including those in the West). "Slavery is a part of Islam," he announced in a recent lecture. "Slavery is part of jihad, and jihad will remain as long there is Islam." He argued against the idea that slavery had ever been abolished, insulting those who espouse this view as "ignorant, not scholars. They are merely writers. Whoever says such things is an infidel." Al-Fawzan is no maverick. He is:
A member of the Senior Council of Clerics, Saudi Arabia's highest religious body;
A member of the Council of Religious Edicts and Research;
Imam of the Prince Mitaeb Mosque in Riyadh; and
Professor at Imam Mohamed Bin Saud Islamic University, the main Wahhabi center of learning.

Genocides, Crimes and Massacres Committed by the PLO and the Syrians Against the Lebanese, 1975-2002 (Guardians of the Cedars)

Kill a Jew for Allah. The Mideast problem. (John Derbyshire, NRO, Mar 22, 2002): "Look: Possibly there would be some abstract justice in closing down the settlements, I don't know. I don't see it myself, I must admit. Why should Jews not live among Arabs? Lots of Arabs live in Israel, and do very well there. There are rich Israeli Arabs; there are Israeli-Arab pop stars and comedians; there are Israeli-Arab intellectuals, teachers, writers, businessmen, athletes. Why, when the whole thing gets sorted out, should there not be Jews living in Arab territory — as there were for centuries past? What, exactly, is wrong with the settlements? I don't see it."

As Palestinian bombers explore sinister ways of killing Israelis, one man wanted to bring bio-terror to the Holy Land (Claudia Cowan, Fox News, Apr 22, 2004): But unlike conventional bombs other terrorists have used to blow up buses or cafes, Abdullah's bomb -- had he finished making it -- would have been laced with HIV-tainted blood (search). "After a period, it will kill a lot of people," he said. At the time of his arrest last month, when another prisoner alerted authorities about his plans, Abdullah was looking around for an AIDS-infected donor. "We were looking to use his blood only," he said, adding that somebody else would have actually carried out the attack.

Genocide (Louis Rene Beres, FrontPageMagazine, Sep 4, 2003): "Readers of daily newspapers are now well acquainted with unending Palestinian calls for the annihilation of Israel. What might not be apparent, however, is that such calls - sometimes in the carefully whispered voice of the Palestine Authority, more often in the strident voice of PA accomplices in Hamas and other related terror groups - constitute an especially serious crime under international law. ... For example, the Fatah organization website still calls openly for the "eradication" of Israel. This call echoes earlier genocidal codifications in the still unchanged Palestinian National Charter, in Fatah's ongoing calls for Inqirad mujtama (the extinction of Israeli society), and in the Charter of Hamas ("There is no solution to the Palestinian problem except by Jihad....I swear by that who holds in His Hands the Soul of Muhammad! I indeed wish to go to war for the sake of Allah! I will assault and kill, assault and kill, assault and kill.")"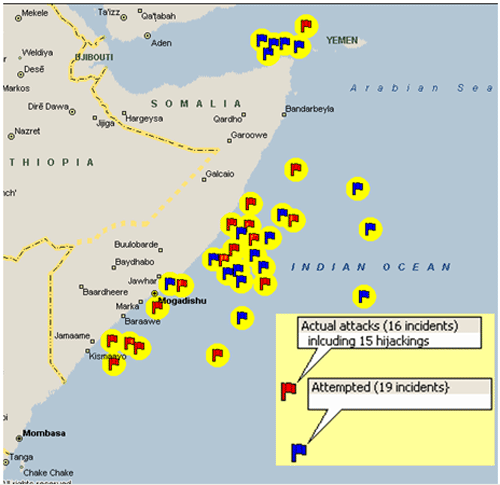 Piracy in Somali

and Iraqi

waters in 2005 (International Maritime Bureau, Jan 31, 2006)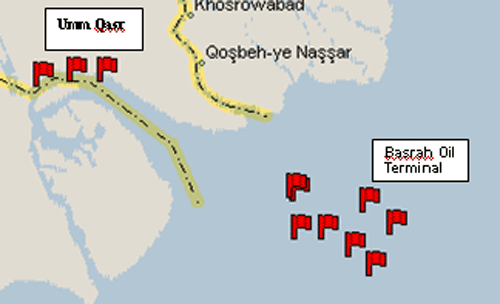 Pirates seize tanker off Somalia (AlJazeera TV, Qatar, Mar 30, 2006):"Somalia's lawless Indian Ocean waters are among the world's most dangerous. Craft plying the waters often are attacked by armed men in heavily armed speedboats who demand ransom for the return of the ship or cargo, which often ends up being stolen. The piracy has often stopped food aid getting into the poor country. Sailors have been held for as long as 100 days and a cruise ship with more than 300 on board was attacked with rockets and machine guns last year."

Barbary pirate (Wikipedia, Jan 10, 2007): ... the Barbary pirates, or corsairs, were pirates that operated out of Tunis, Tripoli, Algiers, Salé and ports in Morocco, preying on shipping in the western Mediterranean Sea from the time of the Crusades as well as on ships on their way to Asia around Africa until the early 19th century. Their stronghold was along the stretch of northern Africa known as the Barbary Coast (a medieval term for the Maghreb after its Berber inhabitants), although their predation was said to extend throughout the Mediterranean, south along West Africa's Atlantic seaboard, and into the North Atlantic, purportedly as far north as Iceland. As well as preying on shipping, raids were often made on European coastal towns. The pirates were responsible for capturing large numbers of Christian slaves from Europe, who were sold in slave markets in places such as Morocco."

British Slaves on the Barbary Coast (Robert Davis, BBC, 07-01-03): "In the first half of the 1600s, Barbary corsairs - pirates from the Barbary Coast of North Africa, authorised by their governments to attack the shipping of Christian countries - ranged all around Britain's shores. In their lanteen-rigged xebecs (a type of ship) and oared galleys, they grabbed ships and sailors, and sold the sailors into slavery. Admiralty records show that during this time the corsairs plundered British shipping pretty much at will, taking no fewer than 466 vessels between 1609 and 1616, and 27 more vessels from near Plymouth in 1625. ... According to observers of the late 1500s and early 1600s, there were around 35,000 European Christian slaves held throughout this time on the Barbary Coast - many in Tripoli, Tunis, and various Moroccan towns, but most of all in Algiers. The greatest number were sailors, taken with their ships, but a good many were fishermen and coastal villagers. Out of all these, the British captives were mostly sailors, and although they were numerous there were relatively fewer of them than of people from lands close to Africa, especially Spain and Italy. The unfortunate southerners were sometimes taken by the thousands, by slavers who raided the coasts of Valencia, Andalusia, Calabria and Sicily so often that eventually it was said that 'there was no one left to capture any longer'."

US Marines' Hymn (official US Marine Corps History Division website, Jan 9, 2007): Following the war with the Barbary Pirates in 1805, when Lieutenant Presely N. O'Bannon and his small force of Marines participated in the capture of Derne and hoisted the American flag for the first time over a fortress of the Old World, the Colors of the Corps was inscribed with the words: "To the Shores of Tripoli." ...

Play US Marines' Hymn:
"From the halls of Montezuma, to the shores of Tripoli,
We fight our country's battles in the air, on land and sea.
First to fight for right and freedom, and to keep our honor clean;
We are proud to claim the title of United States Marine." ...

The Arab jihadi pirates of 1784 (Arab-American journalist Joseph Farah, WND, Apr 27, 2004): "Most Americans probably think the Islamic terrorists declared war on the United States Sept. 11, 2001. Actually, it started a long time before – right from the birth of the nation. In 1784, Thomas Jefferson, John Adams and Benjamin Franklin were commissioned by the first Congress to assemble in Paris to see about marketing U.S. products in Europe. Jefferson quickly surmised that the biggest challenge facing U.S. merchant ships were those referred to euphemistically as 'Barbary pirates'. They weren't 'pirates' at all, in the traditional sense, Jefferson noticed. They didn't drink and chase women and they really weren't out to strike it rich. Instead, their motivation was strictly religious. They bought and sold slaves, to be sure. They looted ships. But they used their booty to buy guns, ships, cannon and ammunition. Like those we call "terrorists" today, they saw themselves engaged in jihad and called themselves 'mujahiddin'... America was struck with its first mega-terror attack by jihadists. In the fall of 1793, the Algerians seized 11 U.S. merchant ships and enslaved more than 100 Americans. When word of the attack reached New York, the stock market crashed. Voyages were canceled in every major port. Seamen were thrown out of work. Ship suppliers went out of business. What Sept. 11 did to the U.S. economy in 2001, the mass shipjacking of 1793 did to the fledgling U.S. economy in that year."



America's Earliest Terrorists | Lessons from America's first war against Islamic terror (Joshua E. London, NRO, Dec 16, 2005): "As timely and familiar as these events may seem, they occurred more than two centuries ago. The president was Thomas Jefferson, and the terrorists were the Barbary pirates. Unfortunately, many of the easy lessons to be plucked from this experience have yet to be fully learned. The Barbary states, modern-day Morocco, Algeria, Tunisia, and Libya, are collectively known to the Arab world as the Maghrib ("Land of Sunset"), denoting Islam's territorial holdings west of Egypt. With the advance of Mohammed's armies into the Christian Levant in the seventh century, the Mediterranean was slowly transformed into the backwater frontier of the battles between crescent and cross. Battles raged on both land and sea, and religious piracy flourished. ... These future United States presidents questioned the ambassador as to why his government was so hostile to the new American republic even though America had done nothing to provoke any such animosity. Ambassador Adja answered them, as they reported to the Continental Congress, 'that it was founded on the Laws of their Prophet, that it was written in their Koran, that all nations who should not have acknowledged their authority were sinners, that it was their right and duty to make war upon them wherever they could be found, and to make slaves of all they could take as Prisoners, and that every Musselman who should be slain in Battle was sure to go to Paradise.'"